Aquatic Facilities
​Supervision Around Water
All of our swimming pools are patrolled by qualified lifeguards. Please refer to our Aquatics Supervision page regarding your responsibilities as a centre visitor.

Casual and Lap Lane Swimming
At Knox Leisureworks we have a variety of aquatic facilities to suit your needs. From toddlers to lap swimmers – we've got you covered with four indoor heated swimming pools, a spa and two outdoor seasonal swimming pools.
Spa
Relax and unwind with a therapeutic spa. Hop in our super-sized spa for an invigorating warm water massage. Water and air jets work their magic as the hassles of the day disappear.
Taking a regular spa is reported to:
Relieve joint and muscle pain

Improve blood flow and circulation

Assist people with sleep disorders
Apart from the therapeutic benefits of a spa, there's the chance to just relax and enjoy.
The Frog Slide
The frog slide is an iconic aquatic attraction and family favorite used by many children within our community over a long period of time.

Whether you're a regular Knox Leisureworks swimmer or are interested in coming for the first time – you are more than welcome to help join in to find the perfect name for the frog slide!

How to enjoy the Frog Slide Safely
1. To ride the frog slide you must be shorter than this sign (max 70cm)
2. Only one person at a time
3. Feet First Only
4. Boards are not permitted on or near the bottom of the slide at any time
5. Make sure you have FUN!
6. Must be under the age of 10 years old
7. Parents must supervise their children while using this slide
8. No Running

These rules are to comply with the Lifesaving Victoria's guidelines on safe pool operations.
Indoor Heated 50m Lap and Recreation Swimming Pool
The indoor heated 50-metre swimming pool has a shallow point of 1-metre and a maximum depth of 1.8-metres. This pool is excellent for running alternative group training activities or to hold games in.
Hire is not limited to full 50m lane length; flexible area options may be available on request.
Warm Water Pool
The Warm Water Pool (WWP) has a maximum depth of 1.6-metre. The main purpose of the WWP is for gentle exercise which is optimal for recovery and relaxation. This swimming pool has a hoist and ramp to ensure easy access for all.
Program Swimming Pool
The Program Pool is 1-metre deep with stair access. It is perfect for running team building exercises, group activities or as an aquatic games area for younger children.
Outdoor Swimming Pools (October 2023 Update)
The outdoor aquatic area at Knox Leisureworks (KLW) will remain closed for the 2023/24 Summer Season. An independent audit has been completed and has deemed the outdoor aquatic infrastructure to be not-operational due to significant structural issues.
Council has engaged a specialist leisure contractor to provide recommendations regarding the planning process and potential future works on the outdoor area at KLW.
Water Slide
Aiming to have it open regularly for patrons and members via a waterslide pass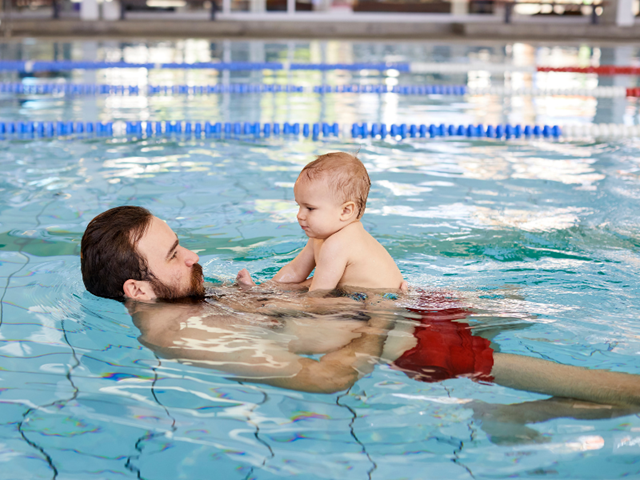 Aquatic Supervision
Your safety is very important to us so we ask that you follow these steps to help ensure your safety in and around our aquatic areas.